Right, as per request in the show us your car history section here is my Capri build thus far. I've just taken the text from another forum so some references to people and locations won' necessarily make sense but you will get the jist, and this if a few updates condences into one.
A wee xmas present to myself. Granted its missing a couple of key parts, doors, engine, suspension, wheels, interior to name a few but seems a decent shell. Has abit of rear end damage, i thought it was just the rear panel although closer inspection the boot floor has a wee crease in it aswell, hopefully it will straighted out though.
Thanks to those who helped getting it into the shed ;D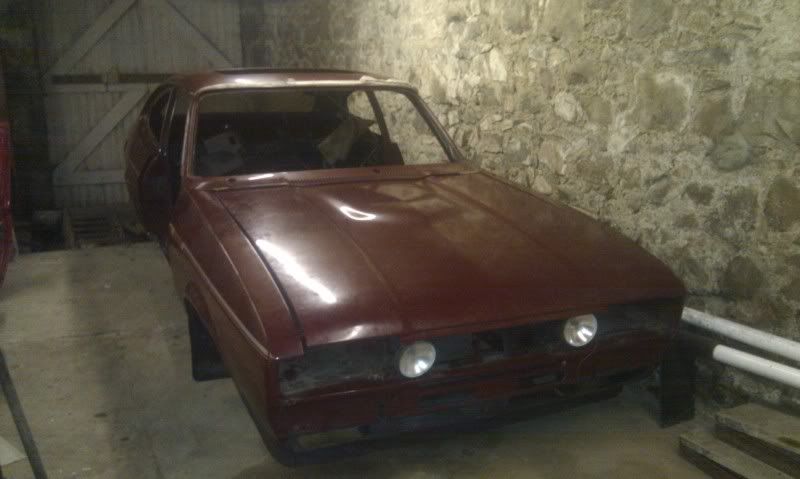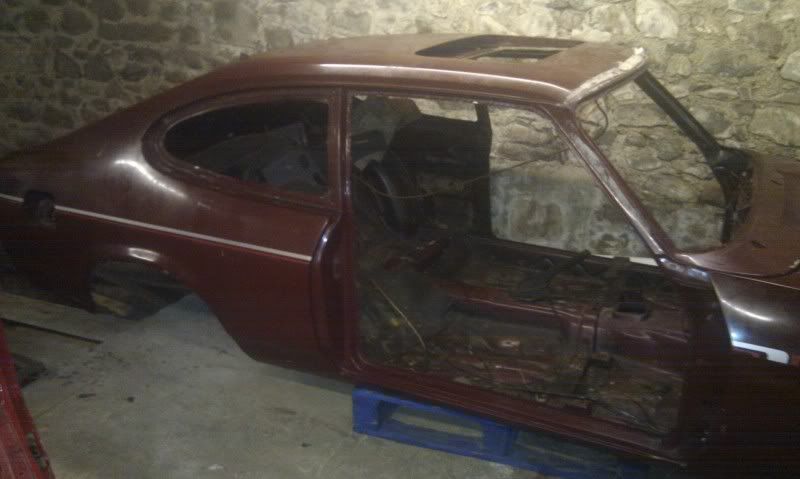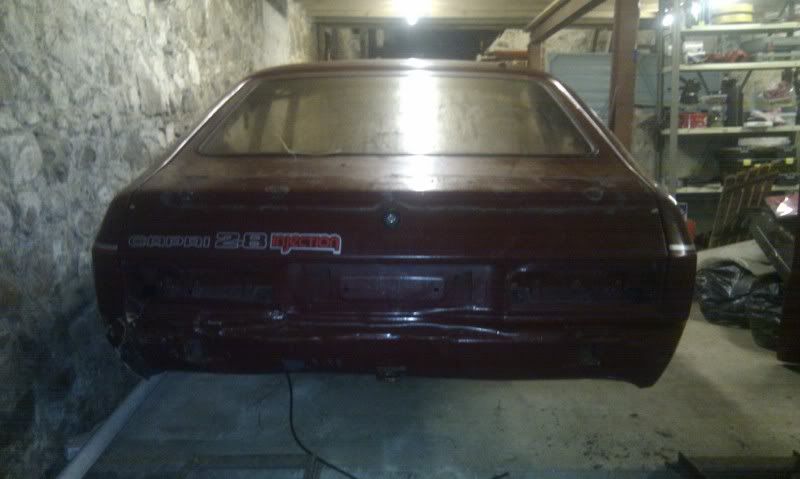 So, time for an update, not done a huge amount on the car itself, but have been spedning plenty of cash on parts for it. First up, with Project Caroline, project teabag it needs a name, so since its starting as a shell it seem only appropriate to name her Shelly!
My main priority whilst its at the lockup is to get it mobile so that when its time to take her out it can be wheeled out. That meant I needed an axle, I wanted an LSD one but with it being xmas and the list of other parts I need money was tight so the only solution was to steal one...
First I thought about this one.
However with Dad due back from Golf in around an hour there was no time to steal his LSD and replace with an standard one, so that left me with the other choice, steal the one of my white car.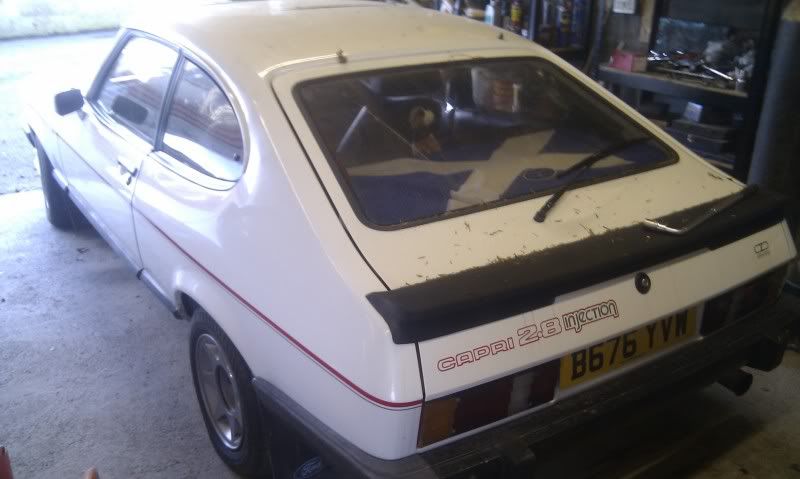 By the time Dad was home from his golf it was more or less ready to come out. With the two of us now on the job it wasn't long before the old one was out and the one I had bought from the club was refitted. I then went on a night out and he finished the brakes off ;D
A clean with a wire brush on the drill and a paint of hamerite and she's looking much better.
I got a job lot of parts from a chap in Invergordon, including front struts. For some reason they were painted green so again, the wirebrush and some hamerite and they're looking closer to the proper colour. Also drilled out the caliper mounting holes to take a bracket for the caprisport 280 conversion. This uses mondeo calipers and sierra cossie discs.
I've bought some adjustable spax inserts for these and 190lb springs, hopefully that will be enough to stop the usual capri nose dive under braking.
As well as a job lot of parts from the chap in Invergordon I've got some parts from Fred. Cross member and antiroll bar which I've had powercoated.
Single leaf springs, shakles and bolts.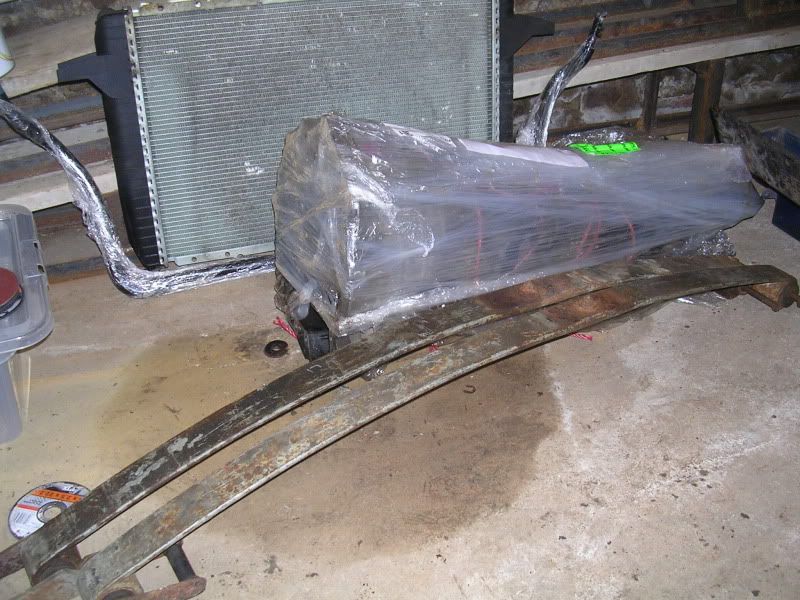 The gear box is from a sierra twin cam, 1 half of the hybrid box required for the cossie 24v conversion. I aquired the radiator but unfortunatly it looks like it will be to deep.
This weekend we picked up my engine(s). I'd originally looked at an entire car in buckie, but the woman wouldn't budge on price, then these 2 came up as a job lot so I jumped at the chance. In typical style after I'd done the deal the woman with the Granada then text to say I could get the car for my offer, it had taken her 4 weeks. Her loss as these were cheaper/less miles and alot less work as they were already removed.
This seems the cleaner of the two so is the one I'm planning to use.
And the other, will keep until the car is up and running just incase its needed for any reason, then either punt it on, keep as a spare or perhaps it might land in another capri...
Next up, the 4x4 gearbox, the other half of the hybrid box, also part of the deal with the engines.
With more parts than room to keep them I headed up to the lockup to make a start on the shell, i mean shelly.
As I said I want to get it mobile but there's no point sticking in the suspension to have to remove again to sort the inner wings. The top plates were bubbling so time to take them off and see whats underneath, or whats missing from underneath.
Starting with the drivers side which look slightly worse.
The results, not as bad as I'd feared.
Ran out of time so never got started on the other side to see what like it is, a job for this week.
right, thought it was about time for an update, just incase anyone was thinking I've got all lazy on this. Progress has been slower than I'd hoped mainly with work but still been doing the odd bit when I've had time.
Seems like a while ago now but the other top plate is removed, not to bad either, I've cut out the section since the photo's were taken but still need to weld in plates.
Next to get my attention was a pair of rear calipers, thrown in as part of the engine/gearbox deal. These were completely siezed and I wasn't really sure if they were salvageable. I looked into getting exchange calipers from a few companies but at £150+ decided to have a go myself.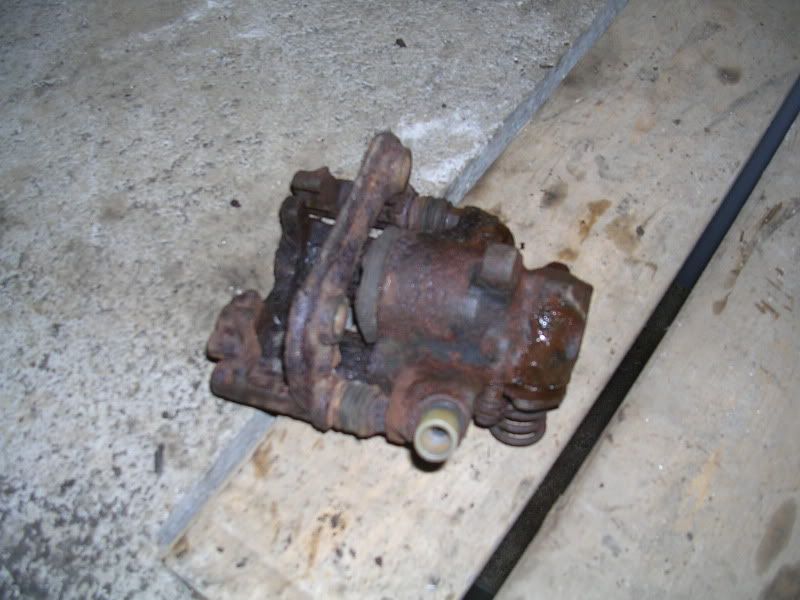 After dismantling them i bought a seal kit for them, seemed easy enough so I set about painting them. With the cold weather at the time the paint didn't set properly and I wasnt happy with the prep work, wire brush on a drill is okay for some things but these really needed plasted. So dismantled them again, plugged up the holes and got them blasted.
Having paid to get them blasted I wasn't taking the chance of the paint not setting again due to cold, so with Paula on a night out it was time to turn the front hallway into my spray booth!
I then decided after having put so much effort into them to get new pistons, the old ones were abit pitted and since this project is meant to be about doing things right and not cutting corners I took the pludge and ordered the pistons. With those arrived I reassembled them and have to say I'm delighted with the end results.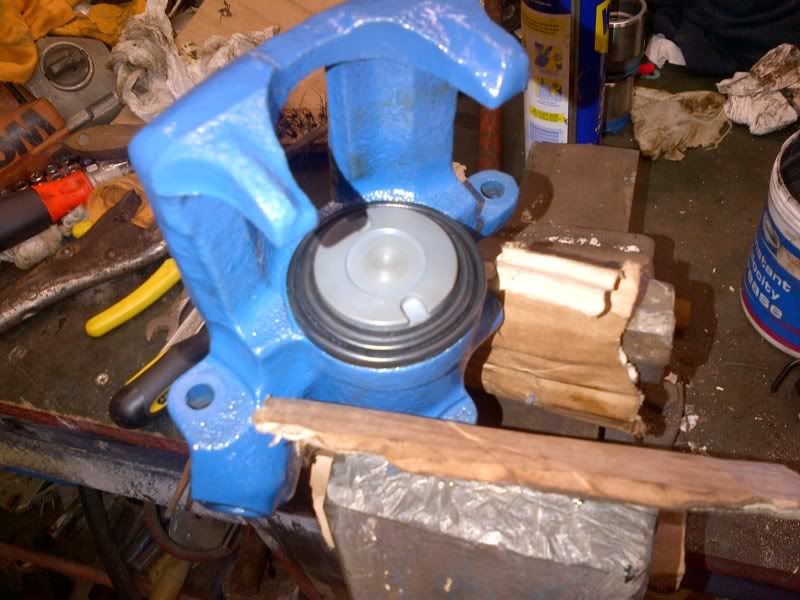 Now with the calipers complete I could go ahead and order my rear brake caliper brakets. I've gone for the 253mm rear setup which uses discs from a scorpio estate. After knocking out the half shafts and fitting the braket/pads and discs this is the end result.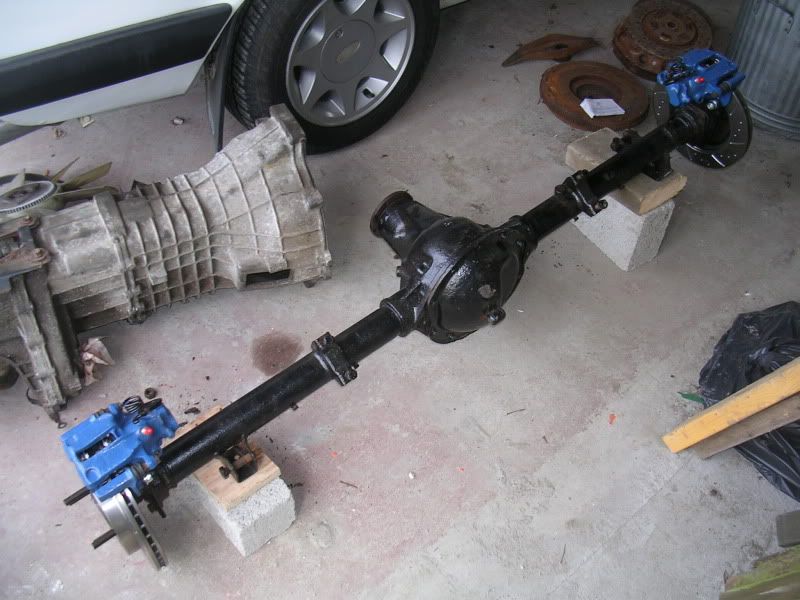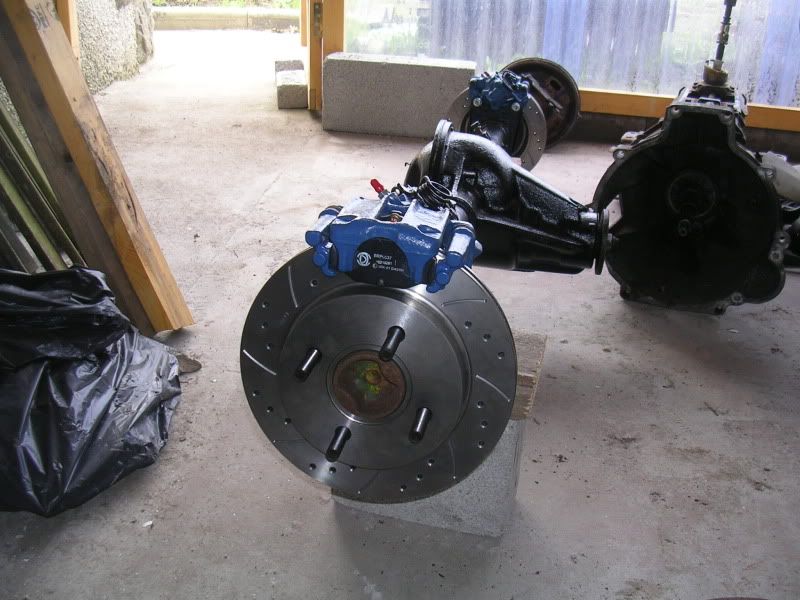 So one axle ready to fit onto the car. I've had some other bits powder coated too, steering rack rubbed down and painted so I'm very very close to getting all the bits onto the car and having myself a rolling shell! ;D